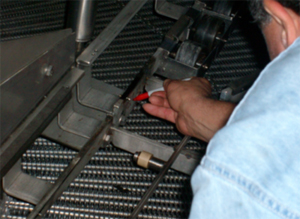 Omar Associates is more than just an engineering and design company. We assist the food service industry from start to finish, including providing experienced food processing personnel to help you increase production capacity, yield and efficiency – all while keeping you on budget.
Process Evaluation and Optimization
A productive food processing line is more than just having the right machines in place. Workers must be trained, and the right systems must be in place. Let us review your current systems and fine-tune your processes so you can reach your full potential. Whether it be line utilization, product mix scheduling, steam utilization, oil life or any other process, we can save you time and money.
On-site Rebuild
When it comes time for maintenance or if something breaks down, Omar Associates will be there to get you back up and running full-speed.
Our staff excels at the following field service for food processing machinery:
On-site repair for anything mechanical, electrical or related to yield maximization.
On-site welding of oven floors, piping systems and stainless steel tanks.
Inspection
Whether purchasing used equipment or checking your own food processing machinery, Omar Associates' maintenance inspection services reduce or even eliminate downtime and include all of the following:
Safety reviews
Production assessment
Yield improvement
Training
Skilled staff is the number one asset of any company. Get your workers up to task through Omar Associates' proven training system. Best-in-class mentoring for operators, mechanics and sanitation personnel will increase productivity, maximize your assets and minimize costs.
Engineering Design of Food Manufactures
Omar Associates designs plant systems and machinery to meet any of your needs. Whether you are looking to add heat, remove heat, lift, dump, transport product, cut product, coat product, mark product or anything else, we've got you covered.
Contact Omar Associates today to schedule a meeting and review your exact conditions and needs.